Why G Suite Admins Should Enable Gmail's Advanced Anti-phishing and Malware Settings: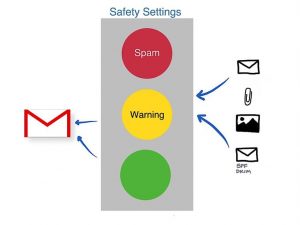 Illustration by Andy Wolber
In March 2018, Google added optional G Suite Gmail safety settings that affect how the system handles potentially problematic attachments, links, and external images, as well as how it processes unauthenticated or spoofed messages. Google always guards against malware in messages, however these settings offer additional protection.
Attachments and scripts
The first two settings protect people from encrypted attachments, which Gmail can't scan, as well as attachments with scripts from untrusted senders. Unless people in your organization need to receive scripts from untrusted senders or receive encrypted attachments, you may want to choose to send both of these items directly to spam.
Links and external images
The next two options protect people from malicious links in shortened URLs and malicious content from linked images. Most G Suite administrators will want to enable both of these settings. I suspect few would want people to access harmful links or images.
Spoofing and authentication
Google also gives G Suite administrators tools to protect people from spoofing. Enable the first two settings: "Protect against domain spoofing based on similar domain names" and "Protect against spoofing of employee names.
Upgrade for charts
Users may see the impact of changes to safety settings, but G Suite administrators who use G Suite Basic or Business lack a way to monitor the domain-wide impact of the changes. In this way, safety settings are unlike DMARC (Domain-based message authentication, reporting and conformance) configuration. With DMARC, an administrator may choose to receive a notification and see key metadata for each item blocked, which allows a technical person to monitor the impact of DMARC settings.
Information for this post was taken from an article by Andy Wolber in TechRepublic, follow this link for the complete article and more details.