Recoup the highest value for your used devices with our K-12 Technology Buyback Program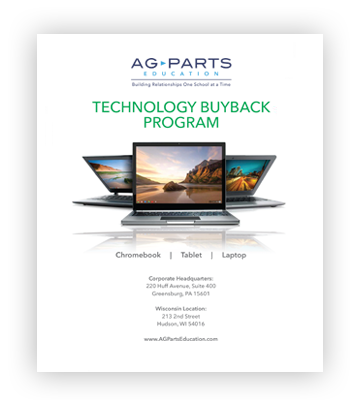 AGParts Education's K-12 Technology Buyback Program is the perfect solution for school districts looking to recoup the highest value for its used fleet of devices. Our buyback process is simple: request a quote, ship devices, and redeem your check or credit.
When partnering with AGParts Education on device buyback, you earn 10% more with our credit option. Not only do you earn more for your used devices, but this option keeps money in your technology budget instead of returning to general district funds. The credit can be used toward any of our other solutions. Download our K-12 Technology Buyback Guide to learn more!
AGParts Education is a dedicated initiative of AGParts Worldwide, delivering comprehensive device management support to over 6,000 U.S. schools for their Chromebook 1:1 programs.
© 2021 AGParts Worldwide & AGParts Education. All rights reserved.