Are You America's Top Young Scientist?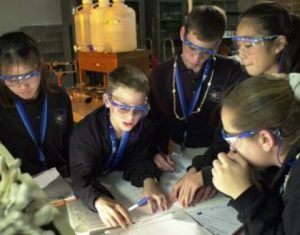 Calling all curious minds and problem solvers! The Young Scientist Challenge is now open for entries. Students in grades 5-8 are invited to submit a 1-2 minute video describing a unique solution to an everyday problem for the chance to win $25,000 and an exclusive 3M Mentorship. Ten finalists will be chosen for their passion for science, spirit of innovation and ingenuity, and effective communication skills.
Thousands of students nationwide have participated in the competition and winners have gone on to do some amazing things; including speak in front of Congress, work with the nation's top scientists, and pursue academic careers in the sciences.
ELIGIBILITY: The Discovery Education 3M "Young Scientist Challenge 2018" ("Contest") is open to all legal U.S. residents who are students enrolled in 5th through 8th grade at a public, private, parochial, or home school located in one of the fifty United States or the District of Columbia. Former Young Scientist Challenge finalists are not eligible to enter the Contest.  For complete rules, follow this link.
Grand Prize Winner:  $25,000–A once-in-a-lifetime opportunity to attend a taping of a Discovery Network show–Title of "America's Top Young Scientist".
For complete Prize List, follow this link.
For TEACHERS:  Lesson Plans, Interactives and Challenge Support Materials, follow this Link.  
For Parents:  Family Activities and Interactives, follow this Link.
Parents need to follow this Link to register their child for the Challenge.
Information for this post was taken from the Discovery EDUCATION/3M website, follow this link for all the details.