Acer Chromebook 11 C732 Series Launched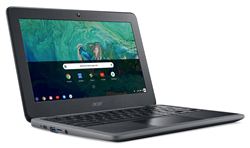 The Chromebook 11 C732 has an IP41 rating against object and water intrusion, which means it is protected from dripping water and items like wires or paper clips.  Features a gutter system in the keyboard that can drain up to 11 ounces of water away from important components
This Chromebook features either a touch or non-touch screen, and an Intel N3350 or N3450 processor, according to the release.   An 11.6-inch IPS touch screen display (C732T) or a non-touch IPS or TN display (C732). In both cases, students can make the most of the display with the Acer Chromebook 11's hinge that opens a full 180 degrees, allowing it to lay flat on a desk for group work, and It can achieve up to 12 hours of battery life. It also includes a microSD port and two USB-C ports, and supports Android apps through Google Play.
The Acer Chromebook 11 C732 can tolerate drops from heights up to 122cm (48 inches) thanks to a durable corner-shield structure and rubber bumper surrounding the keyboard. The Acer Chromebook 11 C732's unique internal honeycomb structure reinforces the body to handle up to 60kg (132 pounds) of downward force on the top cover. The reinforced case and hinges result in greater resistance to twisting and stress, even if students cram them into their backpacks.
The Acer Chromebook 11 C732 has a fan-less design that provides cool and quiet operation, so it doesn't add noise, even to a whole classroom of students. Also, reliability is boosted since it doesn't require venting that may cause airflow issues and dust accumulation.
Students can use the HD webcam with HDR technology and dual accompanying speakers and microphone for Google Chats and Hangouts.  The slim and portable form factor makes the Acer Chromebook 11 C732 ideal for use anywhere – at home, school, work and on-the-go. It measures only 302 (W) x 209 (D) x 21.3 (H) mm [11.88 (W) x 8.23 (D) x 0.84 (H) inches] and weighs only 1.26kg (2.78 pounds).
While the Chromebook 11 C732 is marketed as an education laptop, its ruggedness and optional LTE connectivity could make it a great backup for business travelers or professionals who do field work. The 4G LTE option could be a must-have for road warriors.
The new Acer Chromebook 11 C732 with a non-touch display will be available with either 16GB, 32GB or 64GB of eMMC storage. The C732T with an IPS touch screen display will be available with either 32GB or 64GB of eMMC storage. Both will offer up to 8GB of RAM. The new Acer Chromebook 11 C732 line will be available to education and commercial customers in North America in March with prices starting at US$299.99 for touch models and US$279.99 for non-touch models.
Information for this post was taken from articles by Conner Forrest in TechRepublic and Lisa Emard in CISION PRWEB, follow these links for more details.