Acer Announces New Chromebook Spin 11 for a Cheaper Price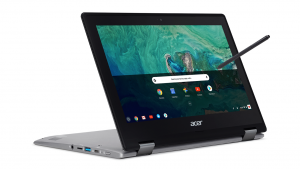 The new Chromebook Spin 11 (CP311-1H/CP311-1HN) comes in three flavors of processors — Intel Pentium quad-core N4200, quad-core Celeron N3450, or dual-core Celeron N3350. It's a bit more than the previous model which came only with the N3350.
Acer also offers variability with storage and memory. It is available in either 4GB or 8GB LPDDR4 for RAM. Meanwhile, it offers 32GB or 64GB variants for internal storage.
It also comes with a 11.6-inch IPS display with a 1366 x 768-pixel resolution. Like the previous model, the notebook is fitted with a 360-degree hinge that allows for laptop, tablet, display, and tent modes.
The Spin 11 pushes the emerging trend for USB Type-C charging. While it does reduce variability, it will boast of an uptime that lasts "all day."  It also sports two USB-C 3.1 ports, two USB-A 3.0 ports, and a microSD reader for connectivity. Likewise, Wi-Fi 802.11ac and Bluetooth 4.2 round the laptop out for wireless connectivity.
The biggest upgrade is its compatibility with a Wacom EMR stylus, which comes packaged with the CP311-1HN model. It doesn't require a battery and is resistant to trauma. Before the Spin 11, only a handful of hybrid notebooks came with a stylus.
The Acer Chromebook Spin 11 will start shipping out in March. It'll come with a price tag of US$ 349.
Information for this post was taken from an article by Luigi Leonardo in Gadget Match, follow this link for more details.
For more details on the New Chromebook Spin 11, follow these links:  Mark Hachman in techconnect and an article in CISION PRWeb.